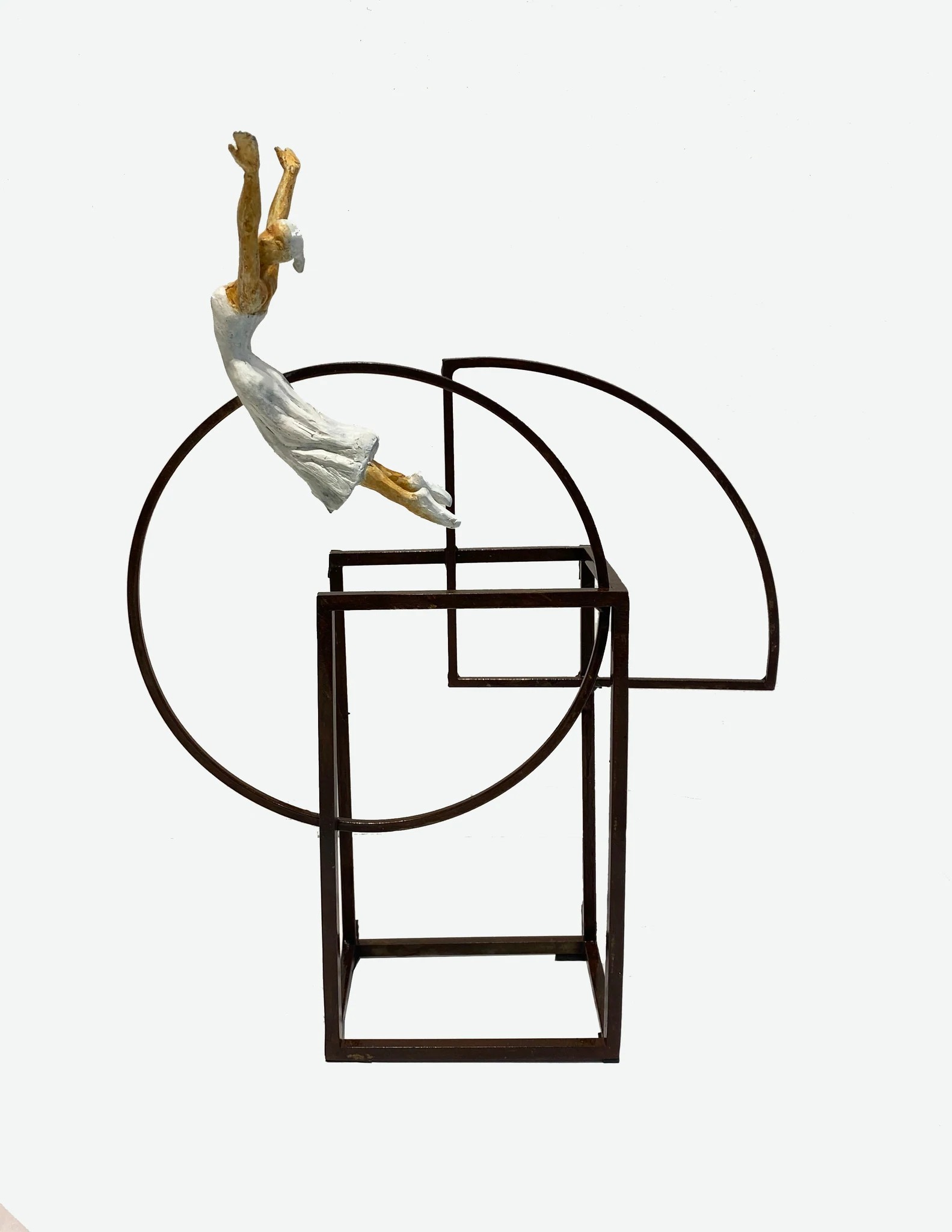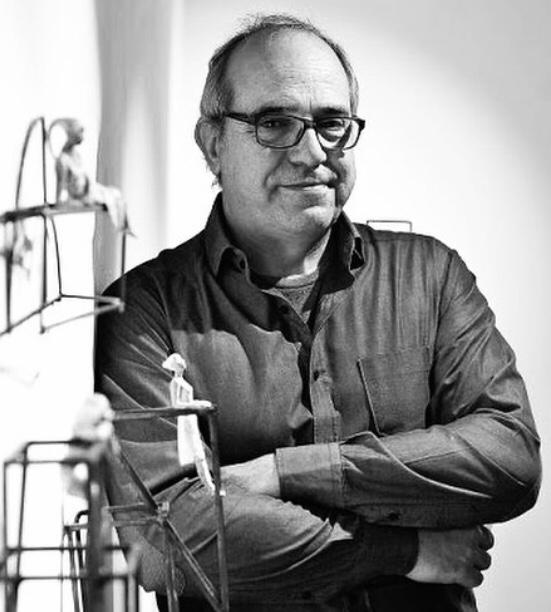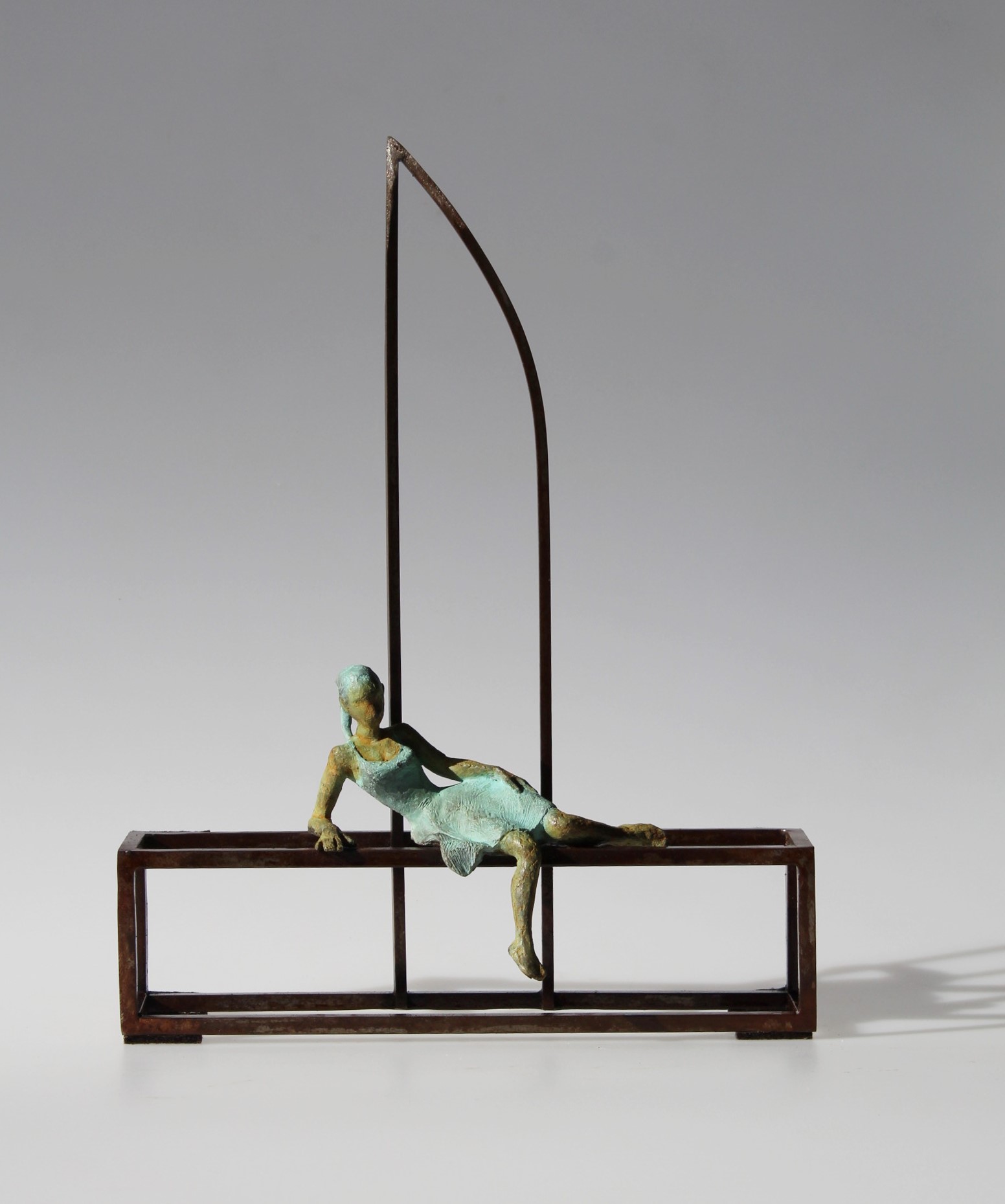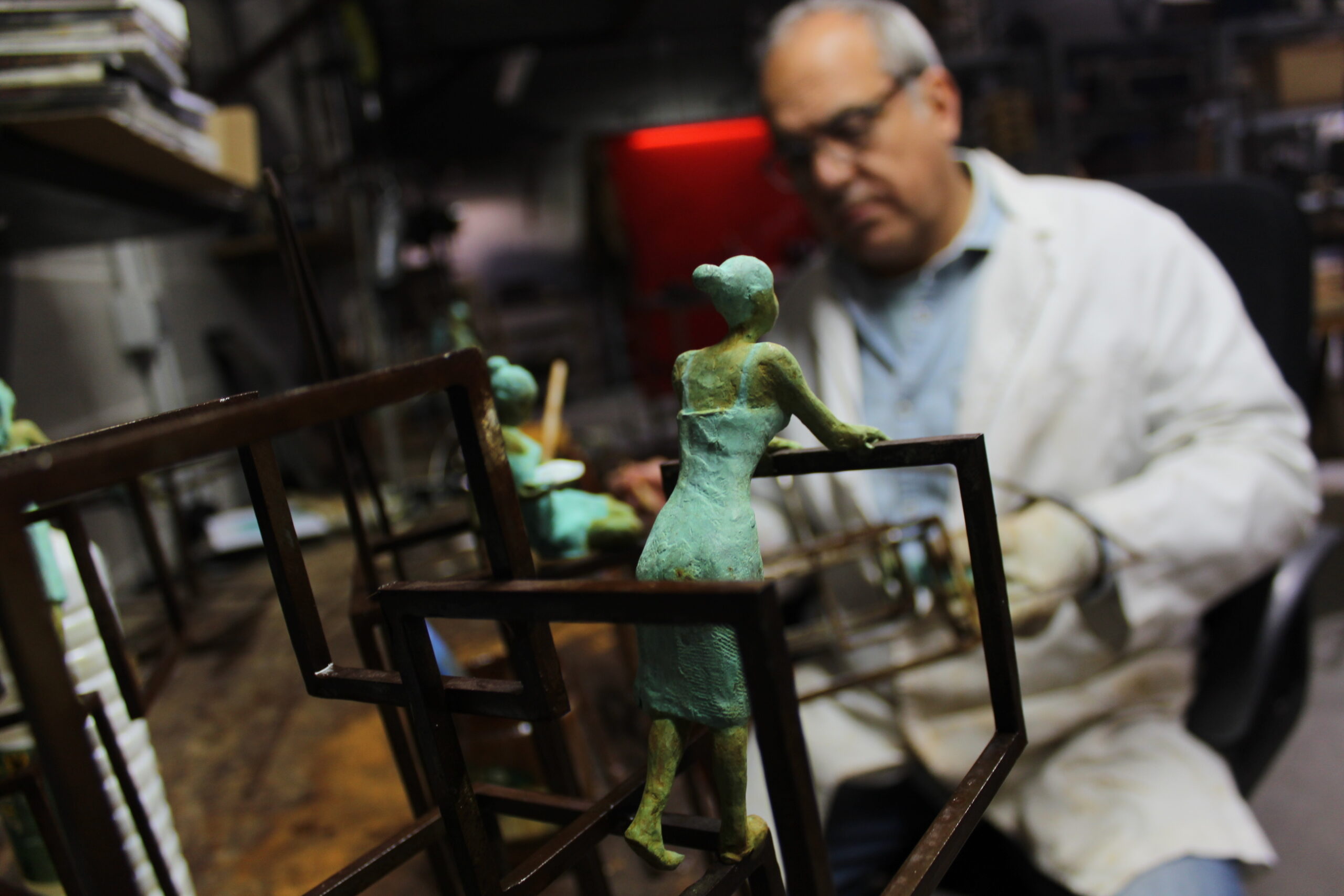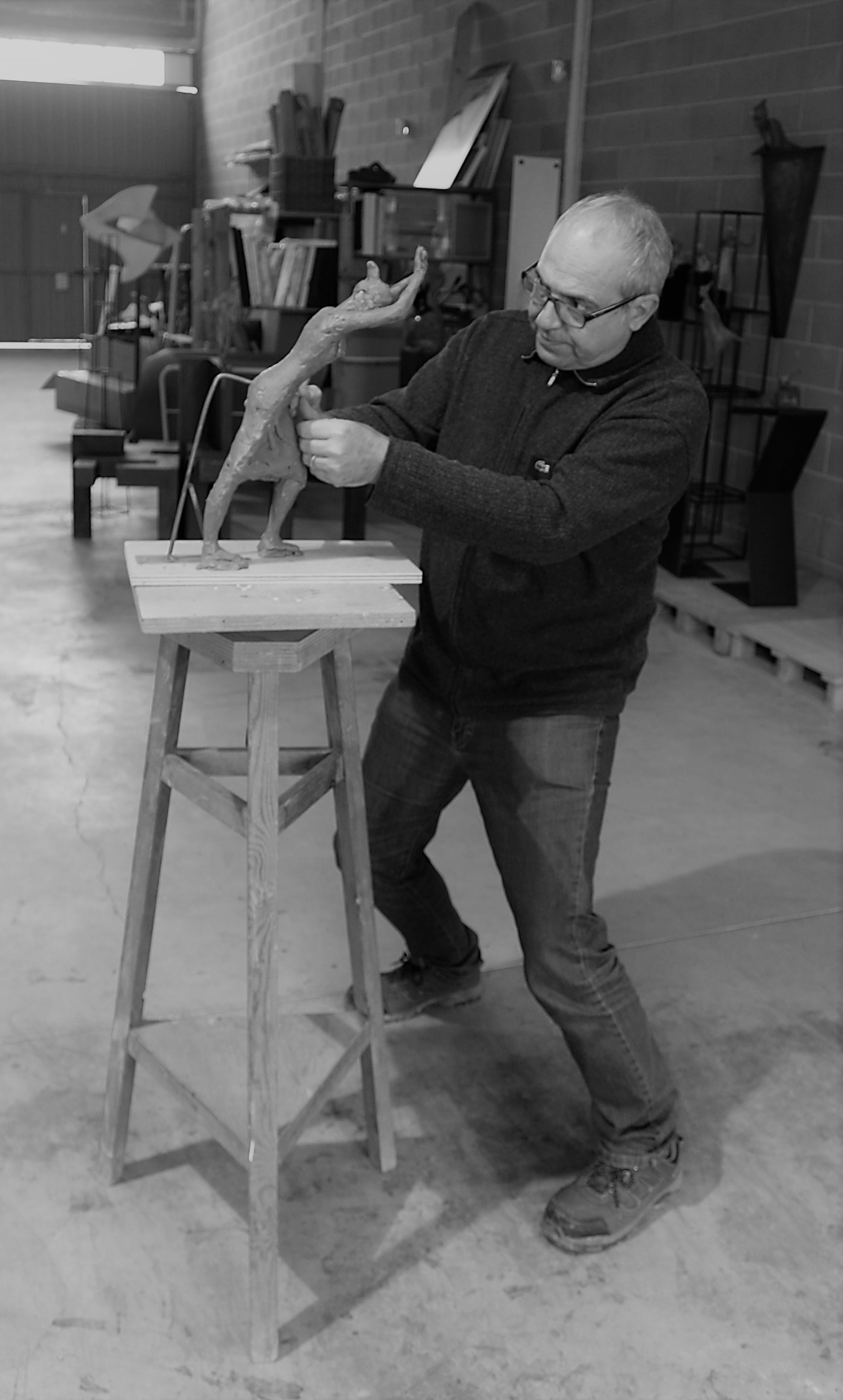 JOAN ARTIGAS PLANAS
The spanish artist Joan Artigas Planas was born 1960 in Vilassar de Dalt in Spain.
Inspired by an amateur painter father, he continued his passion for fine art and graduated from the Faculty of Fine Arts at the Academy of Arts of Barcelona in 1985. While pursuing his artist career in the creation of sculptures, Joan is also lecturer at the School of Arts in Badalona (Barcelona) teaching "Sculpting" since 1988.
The sculptor "Artigasplanas" is, since a decade ago, one of the catalan artists that has exposed more in galleries and art fairs of all over Europe. Nowadays, he works regularly in art galleries of France, German, Denmark, Netherland and Sweden.
The main character of his works, is, without doubt, the woman, a timeless, lonely and mythological woman, which rests in a precarious way on the top of unapproachable constructions. A woman that does huge efforts for surpassing the day to day walls.
The woman made of bronze is warm and sensual and dances in a structure of rusted iron. The base rises impressively, creating a contradiction between both pieces. However, in Artigasplanas' work , the geometrical base and the figure find a surprisingly harmony. In his sculptures the small goddess gets along with their everyday life. He is also able of showing the efforts, joys and dreams of the quotidian life in their expressions.
Joan's latest sculpture series of female figures brings an out-of-the-box approach to sculpture creation: small vivid women figures linked or bonded to their pedestals: the figures are delicate and intriguing representation of a woman's mind and soul: the yearning for liberty, freedom, a moment of tranquility from busy daily life, a space that she could spend the time totally with herself and for escaping from the routine and monotony.
Despite that firstly it may seem that the work of Artigasplanas is easy to understand, it is actually complex and, specially, personal. Teaching and art are the biggest passions of this artist.
"A lonely figure observes the world from its/ours solitude, from a vertiginous watchtower (life, universe) rusted because the inexorable time. More than any other contemporary sculptor, Artigasplanas knows how to reflect the distress and, at the same time, the hope of the human being at the XXI century."
STATIONEN
1960 geboren in Vilassar de Dalt, Spanien

Llicenciat en Belles Arts (Universitat de Barcelona):

1982 Mural painting. Llotja Art School, Barcelona
1985 Graduate in Fine Arts, specializing in sculpture from the University of Barcelona.
1984/1985, assistant to the sculptor Luisa Granero

1988-2020 Professor d'escultura a l'Escola d'Art i Superior de Disseny Pau Gargallo de Badalona
AUSZEICHNUNGEN/PREISE:
First prize in the sculpture competition, Josep Campeny 2005 (Igualada, Barcelona, Spain)
Second Prize in Painting, 2005 (Premià de Mar, Barcelona, Spain)
First prize in the sculpture competition, 2019 (Caldes de Montbui, Spain)
AUSSTELLUNGEN (Auswahl):
2017
Galeria Comas (Barcelona)
2016
Art Herning, Gallerie Rasmus (Herning, Dinamarca)
Art Innsbruck, galería María Aguilar (Innsbruck, Austria)
Affordable Brussels, Galería María Agilar (Bruselas, Bélgica)
Gallerie Rasmus (Copenhague, Dinamarca) Duo exhibition
Galerie de L'Ecusson (Montpellier, França) Solo exhibition
Galleri Helle (Estocolm,Suècia) Duo exhibition
Sala de Arte Murillo (Oviedo)
Almoneda, Galería María Aguilar (Madrid)
Art Nordic, Galerie Rasmus (Copenhaguen, Dinamarca)
North Art Fair, Gallerie Rasmus (Aalborg, Dinamarca)
Copenhaguen, Gallerie Rasmus (Copenhaguen, Dinamarca)
Galleri NP33 (Nörrkoping, Suècia) Solo exhibition
Donostiartean, Ispilu Galeria (Sant Sebastià)
ST-Art Strasbourg, Galería Maria Aguilar (Strasbourg, França)
Art 3F Luxembourg, Galería María Aguilar (Luxemburg)
Galerie AbahamArt (Eindhoven, Holanda)
Almoneda (IFEMA) Galería María Aguilar (Madrid)
2015
Galeria El Quatre (Barcelona)
Gallerie Rasmus (Odense, Dinamarca)
Hillerod kunstdage, Gallerie Rasmus (Hillerod, Dinamarca)
Art Herning, Gallerie Rasmus (Herning, Dinamarca)
Kunst Messe Frankfurt, Galería María Aguilar (Franfurt, Alemanya)
Affordable Brussels, Galería María Aguilar (Brussel.les, Belgica)
Art Up, Galerie de l'Ecusson (Lilla, França)
Antikmassan Stokholm, Galleri Helle Knudsen (Estocolm, Suècia)
Museu de Llavaneres (LLavaneres)
Art3F Rennes, Galerie Bouillon Art (Niça, França)
Donostiartean, Ispilu Galeria (Sant Sebastià)
Beirut Art Fair, Galerie Bouillon d'Art (Beirut, Líban)
Art Copenhaguen, Gallerie Rasmus (Copenhaguen, Dinamarca)
Affordable Art Fair Stockholm, Galleri Helle (Estocolm, Suècia)
Art3F Niça, Galerie Bouillon d'Art (Niça, França)
Arte Sevilla, Galería María Aguilar (Sevilla)
Arte Oviedo,Galería Murillo (Oviedo)
Art3F Mulhouse, Galerie Bouillon d'Art (Mulhouse, França)
ST-Art Strasbourg, galleria El Quatre (Estrasburg, França)
2014
Galerie 13 (Honfleur, França)
Galerie Next (Tolosa, França)
Hegemann Galerie ( Munic, Alemanya)
St-Art Strasbourg, galleria El Quatre (Estrasburg)
Affordable Art Fair Stockholm, Galleri Helle (Estocolm, Suècia)
Art3G Bourdeaux, galerie Bouillon d'Art (Burdeus, França)
Art-Copenhaguen, Gallerie Rasmus (Copenague, Dinamarca)
Galerie de l'Ecusson (Montpellier, França)
Donoasti Artean, Izpilu arte (Sant Sebastià)
Art3F Montpellier, Galerie de l'Ecusson (Montpelier, França)
Bonnefanten Kunstuitleen, (Maastricht, Holanda)
Affordable Art Fair Maastricht, Abraham Art gallery (Holanda)
Affordable Art Fair Singapore, Abraham Art gallery (Singapur)
Herning-Art, Gallerie Rasmus (Herning, Dinamarca)
Hillerod Kunstdage, Gallerie Rasmus (Hillerod, Dinamarca)
Gallerie Rasmus, Copenhague (Dinamarca)