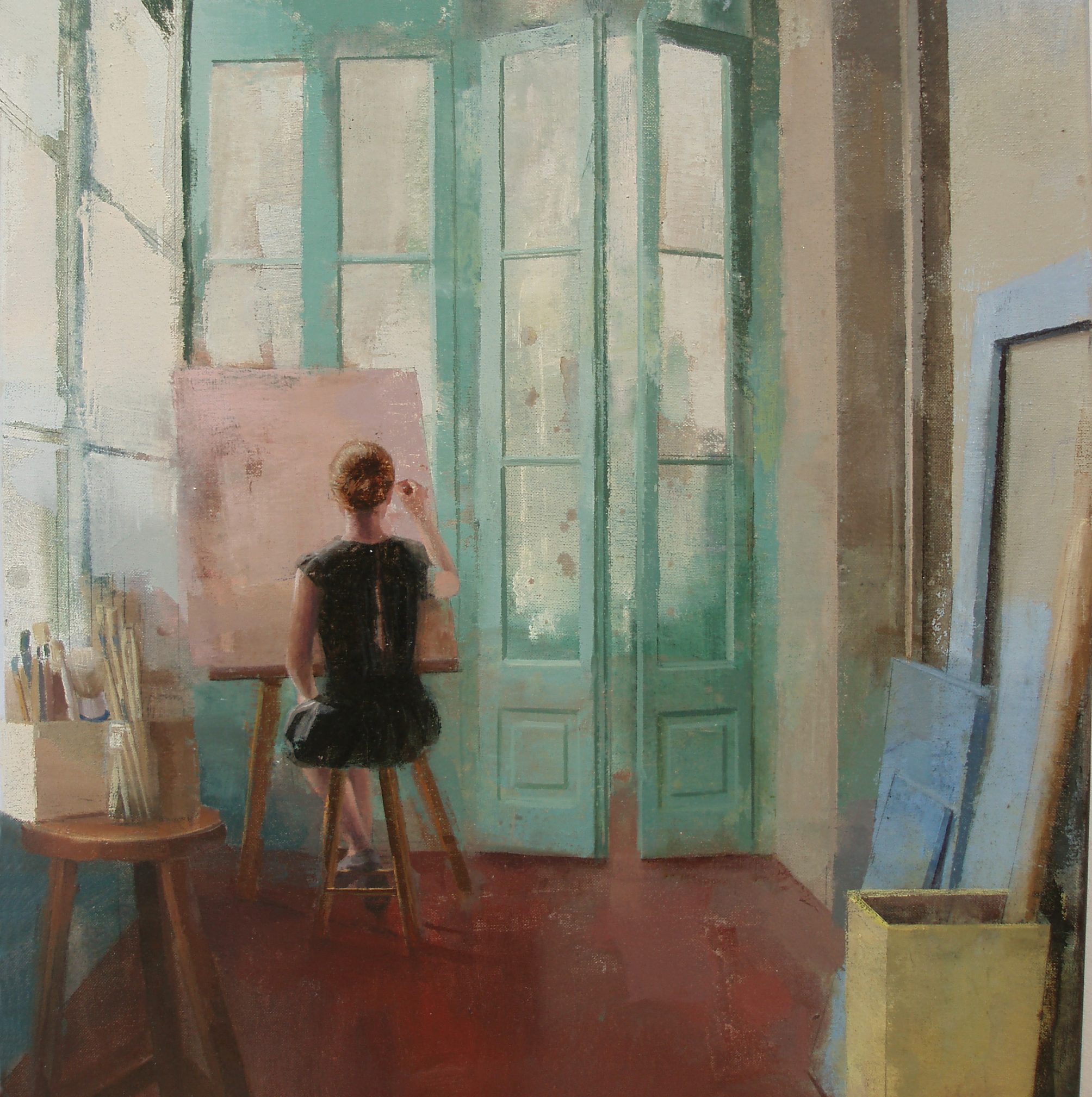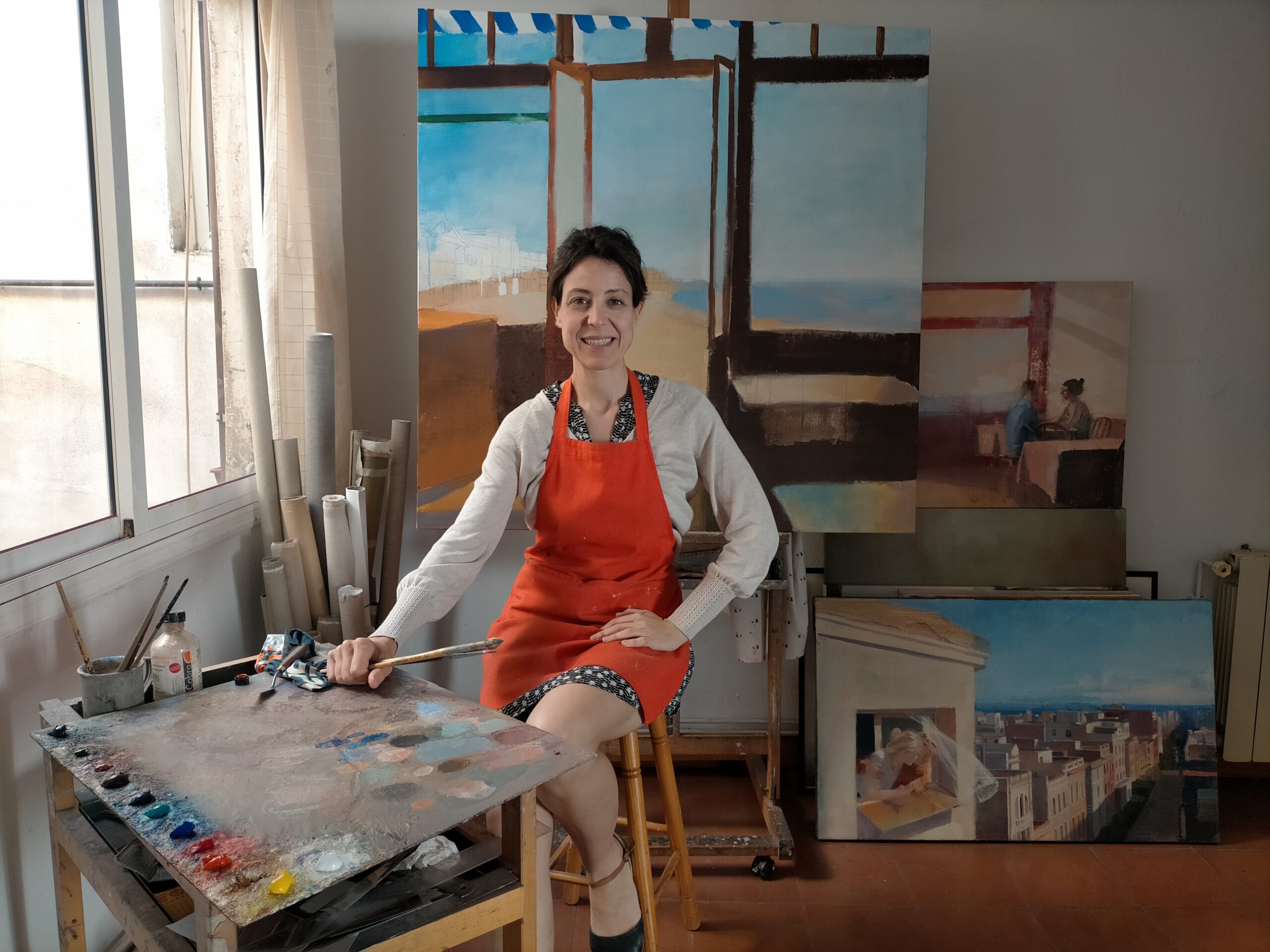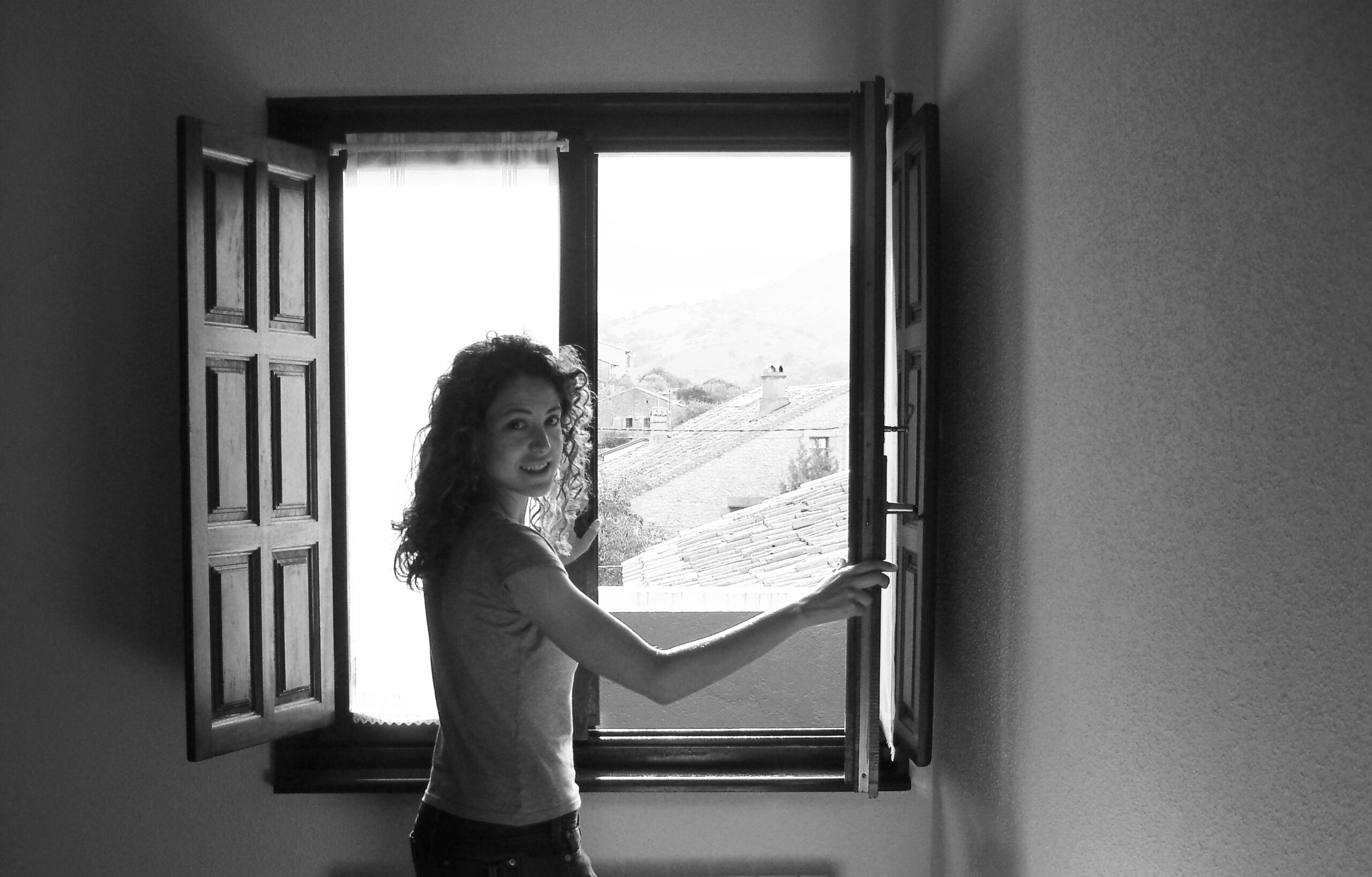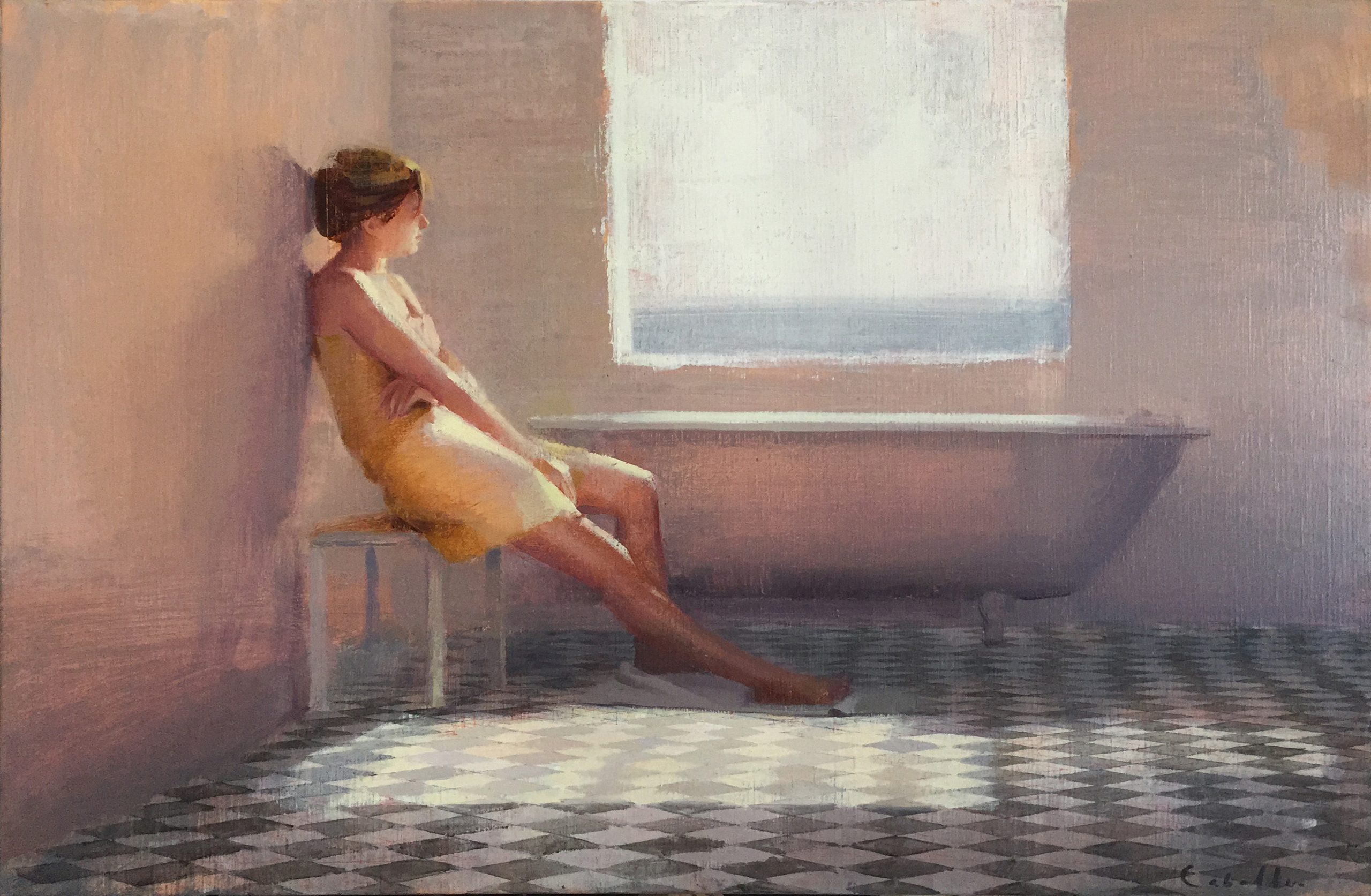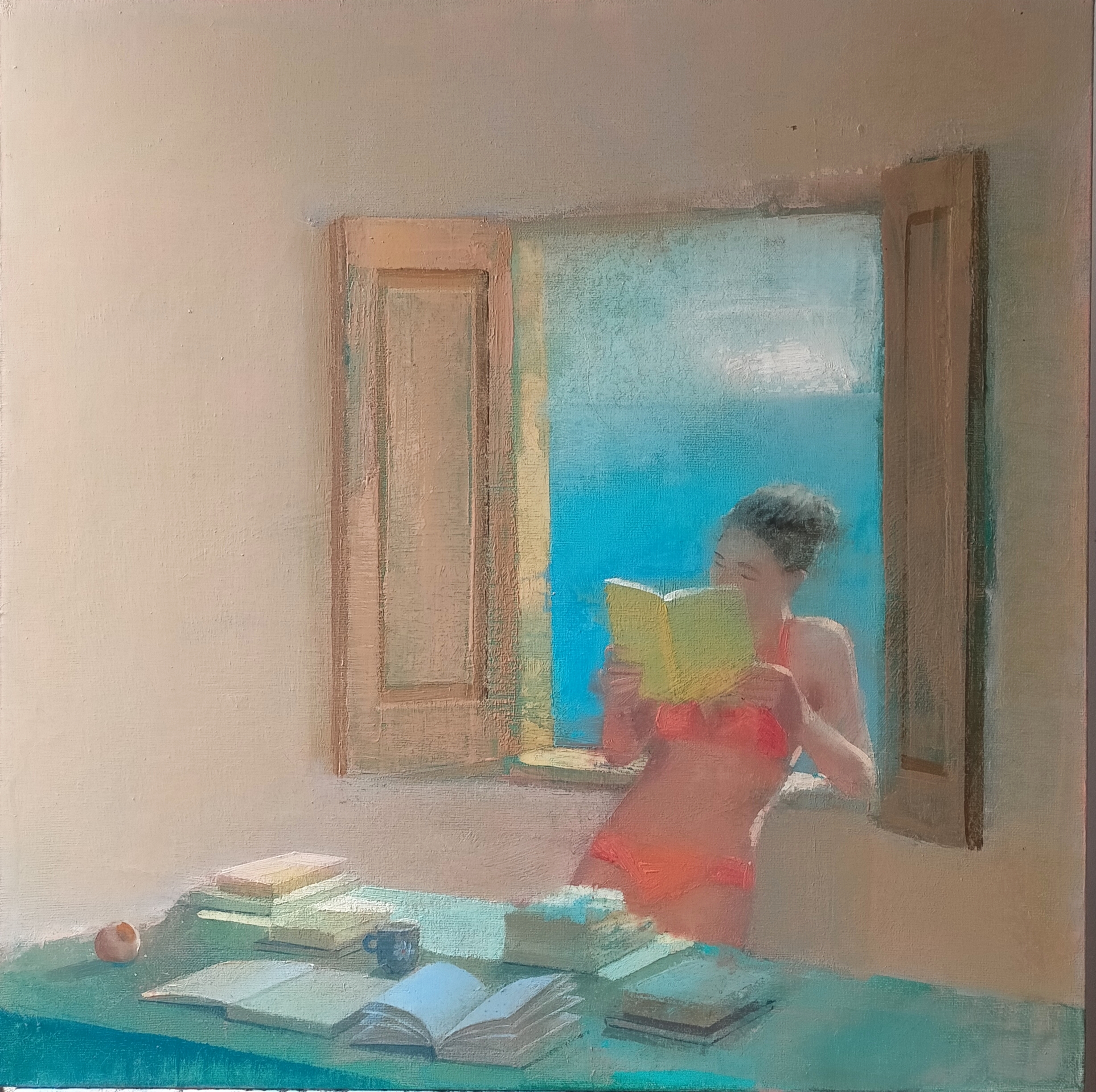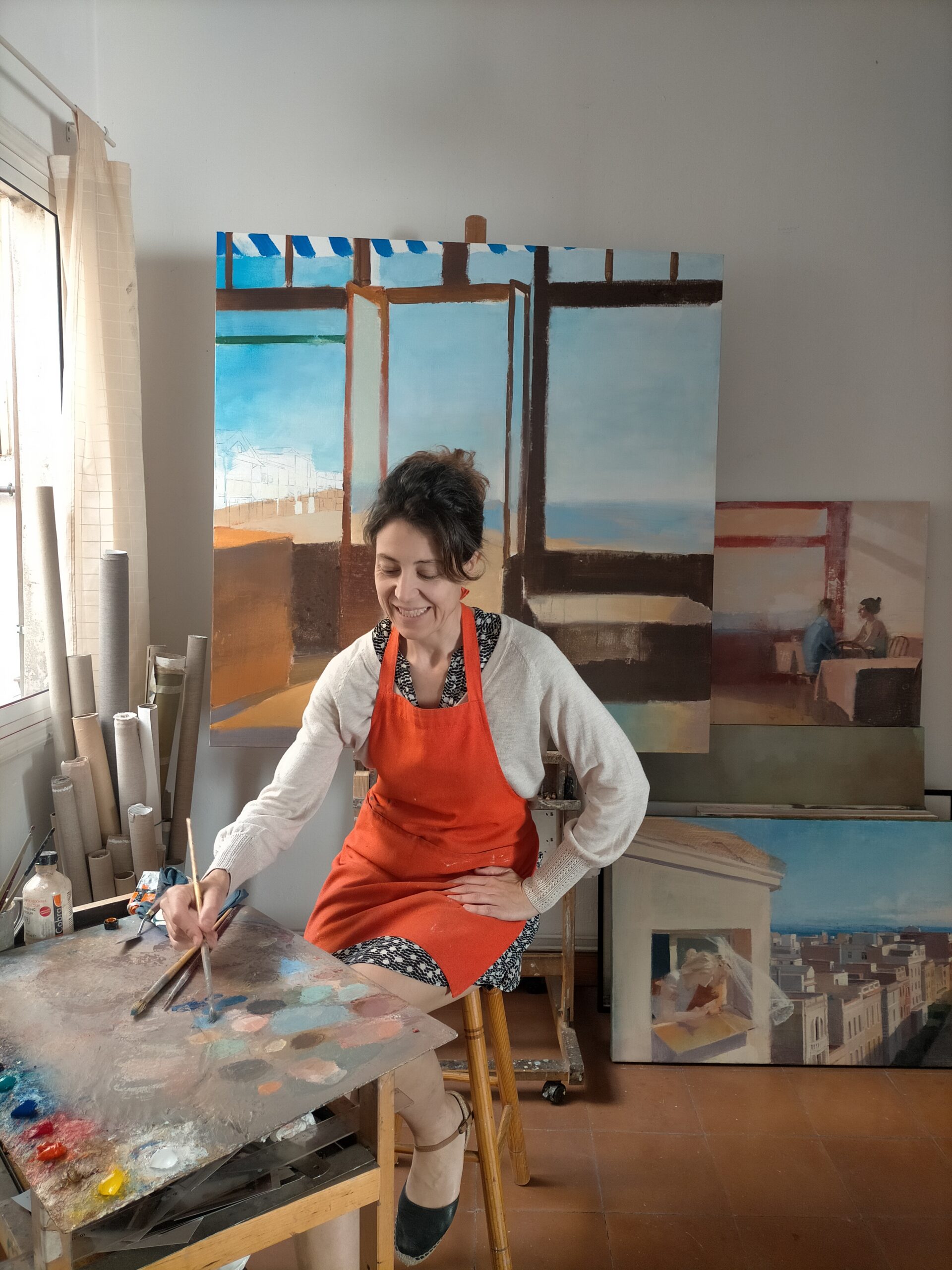 ALEJANDRA CABALLERO
She was born 1974 in Madrid.
She begins to receive artistic training from an early age in workshops and academies in Madrid. She begins to paint because of her mother´s love for painting. They both shared lots of moments looking throug art books and visiting art exhibitions. Also, her father´s love for cinema, introduces her even more in the world of images.
At the age of 18 she travels to Indianapolis (USA) where she receives art classes at the Lawrence Central High School, which she represents in Senior Category for the "500 Festival of the Arts" contest and gets the first place.
She graduates with honors at the Complutense University of Fine Arts in Madrid.
In the summer of 1996 she attends the landscape scholarship of Ayllón (Segovia), where she feels absolutely free. She obtains the prestigious painting grant from the Rodríguez Acosta Foundation of Granada where she meets the father of her future son.
That same year she won several awards, among them the "Pèbeo Art Contest" with her companions Marian Perez and Iván Solbes, with whom she planned and made an installation in Marseille and a cultural trip to New York.

The Spanish embassy in Belgrade, welcomes her three times to develop her work inspired by the city and its surroundings and finally these trips have their fruit in a solo exhibition at the Jugoslavenska Galerija Umetnickih Dela in 2002.
At the age of 29 she moves to Barcelona where she begins to collaborate with Jordi Barnadas gallery in four solo exhibitions and other projects.
Her son Daniel Prunés is born in 2010.
Thanks to Andrés Moll, the owner of the Galeria Artara of Mahón, she gets to know the island of Menorca, a source of inspiration in many of her paintings.
The Anquin´s Gallery is her main agent in international art fairs. In Madrid she is represented by Jorge Alcolea´s Gallery.
Her next exciting project is a solo exhibition at the Kunststuecke Gallery in Munich.
STATIONEN
1974 geboren in Madrid
1992 Kunststudium an der

Lawrence Central High School, Indianapolis, USA

Complutense University of Fine Arts in Madrid

Landscape scholarship of Ayllón (Segovia) 
EINZELAUSSTELLUNGEN (AUSWAHL)
1999    Puerta de Toledo, REAJ de la Comunidad de Madrid
Fundación Arte XXI, Madrid
2000    Galería María de Oliver, Madrid
2001    Galería Elarte, Madrid
2002    Jugoslavenska Galerija Umetnickih Dela,Belgrado
2003    Galería Estandarte de Madrid
Galería Artara, Mahón, Menorca
Galería Ana Samarán, Madrid
2004   "El otro, el mismo", Galería Jordi Barnadas, Barcelona
2005    Galería Ana Samarán, Madrid
2006   "Umbrales", Galería Jordi Barnadas, Barcelona
Galería Espacio G deArte, Tarrasa
2007   "Sa Calma", Galería Artara, Mahon, Menorca
2008    Galería  22, Igualada, Barcelona
2010    Galería Jordi Barnadas, Barcelona
2012   "Interior", Galeria Jordi Barnadas, Barcelona
2013    "Recent Paintings" Galeria Jorge Alcolea, Madrid
2014    Galerie Veronese, Nantes, Francia
2015    Galería Anquins, Reus
2016   "Cuento de Verano" Galeria Jorge Alcolea, Madrid
2020 "Luna Nueva" Galeria Jorge Alcolea, Madrid
" Presente" Galeria Anquins, Reus
2022 "Cuento de Primavera" Galeria Jordi Barnadas, Barcelona
2023 "Segundas Vidas" Galeria Jorge Alcolea, Madrid
PREISE & AUSZEICHNUNGEN
1992   1º Premio del 12th Grade del "500 Festival of the Arts"  Indianapolis, Indiana
1997   PremioAdquisición en la "1ª Bienal Internacional de Artes Plásticas Ayto. de Alcorcón, Madrid
1º Premio "Pébéo Art Contest", Marsella, Francia
1º Premio de pintura de pequeño formato de la Asociación Española de Pintores y Escultores
2000   Obra seleccionada en la 1ªBienal de Realismo y Figuración Contemporánea . Galeria Clave, Murcia
Seleccionada en el Premio Penagos de Dibujo, Fundación Cultural Mapfre Vida, Madrid
2001   Mención de Honor en el concurso de Dibujo de la Fundación Ynglada Guillot, Barcelona
Premio Adquisición en el I Certamen de Pintura Contemporánea de la Fundación Wellington
Obra seleccionada en la 1ªBienal Internacional de Dibujo Josep Amat. Sant Feliu de Guixols
2002   Obra seleccionada en el 1ºCertamen Ciudad de la Pintura de Caja Vital Kutxa, Vitoria
2008   Seleccionada en la 3ªConvocatoria de la Fundación de las Artes y los Artistas
2010   Obra seleccionada en 77 del Salón de Otoño, Asociación Española de Pintores y Escultores, Madrid